Bonadventure Pencroff never existed, it is a man, a dream, a fiction, an island, a lost continent.
Bonadventure Pencroff is one of the five castaways, the versatile sailor, the mysterious island of Jules Verne. In the book, there is a splendid quotation « Cyrus, do you think there are islands to shipwrecked,
islands specially created to properly wreck?  »
Bonadventure Pencroff, sailing and unveils the social and musical journeys of Christophe Rocher, Frédéric B.Briet, Nicolas Pointard, Jeb Bishop, Rob Mazurek and, in the role of a « fortune teller",
accompanying with his texts, sources and resources, their drifts and divagations, the anthropologist Alexandre Pierrepont.
Bonadventure Pencroff, is also a phenomenal matrix of stories to be told, functioning like music that is composed and improvised collectively from actions, reactions, interactions, anticipations, digressions.
A matrix which is first inspired by the lives of sailors, pirates, poets, all those who ride the spirit of the waters between Africa, Europe and America, to imagine New fantastic sailing. And from the Atlantic
Ocean to the Indian Ocean or the Pacific Ocean, there are only currents.
Bonadventure Pencroff, is another form of musical thought and poetic travel, with multiple tracks, multiples of voices.
---
Christophe Rocher (Brest, France) : Clarinets
Rob Mazurek (Chicago, Il, USA) : Cornet
Jeb Bishop (Chicago, Il, USA) : Trombone
Frédéric B.Briet (Brest, France) : Double Bass
Nicolas Pointard (Brest, France) : Drums
Alexandre Pierrepont (Paris, France) : Fortune Teller
———–
« In the creative power of a few transatlantic agitators, rallied to the incantatory feather of Alexandre Pierrepont, dreamlike storyteller of the adventure and initiator of The Bridge, bringing the fine flower here (Brest) and there (Chicago). Thus the cornetist Rob Mazurek, and the trombonist Jeb Bishop, Nicolas Pointard on drums, the double bassist Frédéric B.Briet and the "deus ex machina" and clarinettist Christophe Rocher drop the moorings for a luxurious, pungent and suave music. »
Jazz News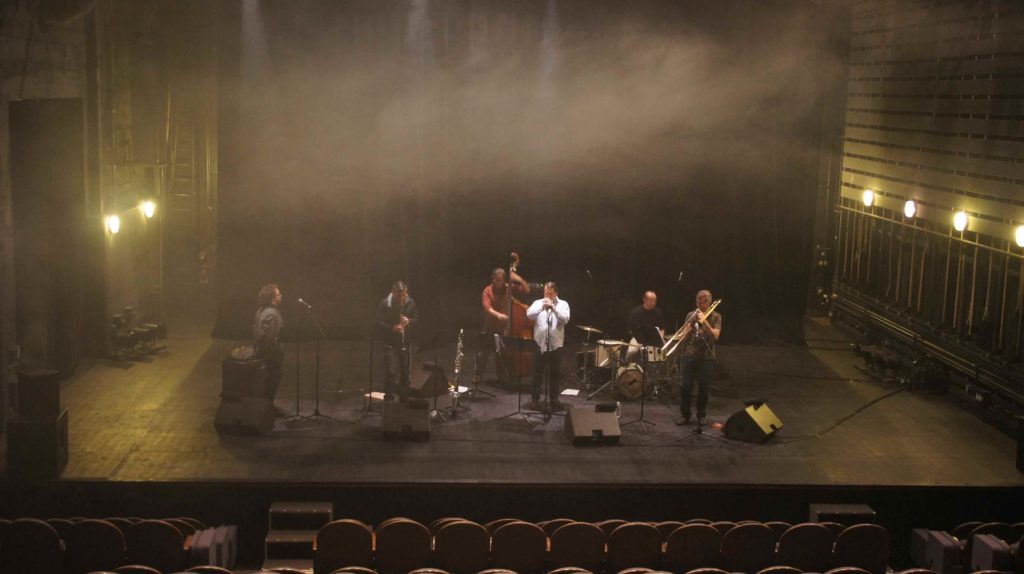 Buy the CD « De fortune » here : HERE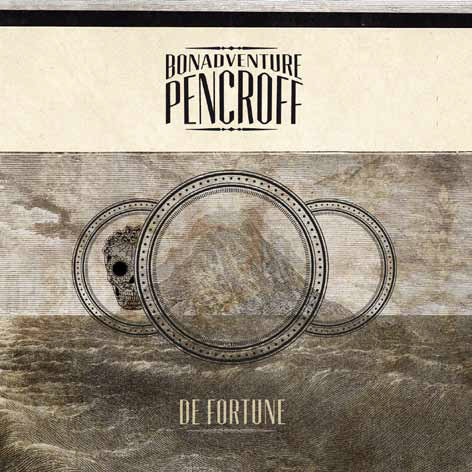 Trombone
Jeb Bishop has performed, toured and recorded with groups including the Vandermark Five, the Peter Brötzmann Chicago Tentet, Ted Sirota's Rebel Souls, Terminal Four, School Days, Ken Vandermark's Territory Band, Rob Mazurek's Exploding Star Orchestra, Globe Unity Orchestra, and his own Jeb Bishop Trio. He also co-led the Lucky 7s project with New Orleans-based trombonist Jeff Albert, and is a member of cooperative quartet The Engines.
By 2000 or so he was focusing exclusively on trombone and formed his own trio, the Jeb Bishop Trio, with Vandermark Five cohorts bassist Kent Kesslerand drummer Tim Mulvenna.[2] The trio has two CDs on OkkaDisk, the second with guest guitarist Jeff Parker.
Bishop has also performed and recorded with a great many other local, national, and international musicians. He is a member of the Peter BrötzmannChicago Tentet and has recorded duo albums with Joe McPhee and Sebi Tramontana. He has recorded and toured with English improvisers Tony Bevanand John Edwards. Regular Chicago collaborators include Fred Lonberg-Holm, Michael Zerang, Josh Abrams, and Hamid Drake.
Cornet
Composer, improviser and multi-media artist Rob Mazurek has drawn inspiration from a multitude of audio and visual styles and sources over the past three decades. Augmenting his cornet playing with computer programming, electronics and an assortment of keyboards, Mazurek's broad electro-acoustic palette defies simple categorization. Mazurek currently lives in Marfa, TX after having relocated back to Chicago following an extended stay in São Paulo, Brazil. He leads and composes for a wide variety of ongoing ensembles, including Exploding Star Orchestra, Chicago Underground Duo, São Paulo Underground, Pharoah & The Underground (featuring Pharoah Sanders), Black Cube SPand his newest ensemble Chicago / London Underground, which features Chicago Underground Duo with Alexander Hawkins and John Edwards.
Fortune Teller
Anthropologist working on the logics of what Patrick Chamoiseau « Diversity », from poetics to politics and back, on the phenomena of « double consciousness » and the internal Western societies – particularly on African-American music as an alternative social institution, Alexander
Pierrepont divides his time between North America and France, between different « jazz worlds » and the academic institutions where it intervenes (Paris 7 – Denis Diderot, Sciences Po Paris and the Columbia Penn Program in Paris). Working to communicate, on the ground, the world of research scientific and musical experimentation or socio musical experimentation. Alexandre Pierrepont is also the author of several collections of poems, published in France, Canada and the United States, and works on discs designed, with improvisers, like construction toys between poetry and music. Articulating a haunted speech of multiple voices or spirits, a word of the « double consciousness », where the real would be a game call and response between the inside and the outside, the deep and the beyond, the known and the unknown, form and formless and all others.
He directs the french-american network of musical creation « the bridge ».
Doublebasse
Fréderic Briet began his musical career in the Spiral Quartet Simon Goubert, then in Magma – Offering and Alien Quartet / Trio Christian Vander. Until 1990 he played in many formations as a sideman with musicians such as Emmanuel Bex , George Brown, Steve Grossman, Michel Graillier, Alain Jean Marie, Aldo Romano, Queen Alvim … Around 1990, he met Benoit Delbecq, Guillaume Orti, Olivier Sens, GeofroyDemasure Hubert Dupont, Gilles Coronado and Steve Argüelles and Stéphane Payen. These fundamental meetings will be responsible for the creation of the Hask Collective, and will determine the number of collaborations and projects until today. Teacher, producer, he moved to Brest in 2000 built the jazz class of the Conservatory of Brest. It is in this context that he created and directed for 10 years the Nimbus Orkestra : pedagogic orchestra who gave the chance to many students to play with professionals. Since the beginning of his musical activities, he works punctually with contemporary music ensembles and classical music orchestras because of his interest in these sets and the expressive range of the bass in these directories.
« The absence of drums, I was saying, didn't appeared as an handicap. It has been compensated by the astonishing, I dare say, moving presence of Frederic B.Briet. He looked like the tempests master with his unsinkable double-bass. Gravity, deepth, stability, and his « walkings » which sounded like a recall of an immemorial truth of this music. »
François-René Simon // Jazz Magazine
« Because he decided to live in Brest, Frédéric B.Briet has disappeared a bit of the map. However his a great double bass player ! The obvious connection with Tyshawn Sorey was remarkable, throwing furious grooves, with a sound which imposes respect. He was on tour with Hask in 90's, now he's back ! »
Ludovic Florin // France Inter
Clarinets
In parallel to his engineering studies in artificial intelligence, he followed classical musical studies at the Conservatory of Clichy. He finally decides to devote his life to music, and learn many kinds of improvisation, jazz and writing music / composition with Guillaume Orti, Fabrizio Cassol (Aka Moon), Steve Coleman and others, he developed his ability on clarinet with Jacques Di Donato. Since the 90s, he is developing his own musical voice, with BernardLubas alongside or in collective such as Aerophone of Michel Doneda, or Circum. Living in Britain, he develops very strong links with the Breton musicians. He takes part on "The Bridge", French-American creations network led by AlexandrePierrepont. Christophe has created in recent years, among others, Extenz'O Trio (with Olivier Benoit and Edward Perraud), the comic-concert "Un Homme est mort", « Le Passage Secret », show with Elise Caron and Christofer Bjurström, Boreal Bee Sylvain Thevenard. He played in the Circum Grand Orchestra, a duet with Jacques Di Donato, Erwan Keravec or Daunik Lazro, and many groups of jazz and improvised music in France and abroad. I plays or played with Jeb Bishop, Rob Mazurek, Nicole Mitchell, Hamid Drake, Joe Fonda, Jeff Parker, Bernard Lubat, Assif Tsahar, Edward Perraud, Olivier Benoit, Paul Rogers, Mike Ladd, Beñat Achiary,  …
« The music circulates, breathes, the speech is fluid. A improvised music without borders and a strong taste for melodies and rythms made of original tones. Christophe Rocher is one of the best french clarinetists…»
Culture Jazz // Thierry Giard
« It is amazing to see that so much scholarly cruelty with sound matter leads to so much
musical poetry … to say from breath to sound the advent of melody … A research work
that will surprise everyone halfway between written music and improvisation »
Ouest France // Gaëtan Le Guern
NICOLAS POINTARD
Drums
He started to learn drums at the age of 9 years and will turn to jazz andimprovised music at the end of the last century with bands like "Kassiopée" or "A cheval dans le désordre", in festivals like "Gleam" ( Brest) , Beta Project (Pau) or Pannonica (Nantes). He also evolves into traditionnal band like "Faro". In 2005, he directed and wrote the music of the sextet "Apsis", and created the duo "Shampoing" with the trumpeter Philippe Champion. Since 2006, he played in various projects : the band Art Ensemble of Brest led by Christophe Rocher, the cine-concert Christofer Bjurström, "the Krautrock" with Tank, the electronic music with DJ Naab in Brest. Since 2007 he plays in "Dekoe ", a choreographic and musical play inspiration, in the rough jazz quartet Oko and polyrhythms mestizo African jazz "Rah-Slup". Today, he leads the new Nautilis nonet, « Evergreen », and wrote all the pieces of this new creation.
« One of the majors drummers of the french scene, who double his talent of an immoderated
taste for the risk in the musical act, particularly when it's collectiv.»
Jazz à l'Ouest
« A will to explore the sonic materials born out of the exchanges of tones he finds the
freedom and space in the music. »
Offoron Records
---
.
---