Want to dive in a musical dream ?
Through à theater made of lights and shadows, Nautilis Ensemble bring you into a dream where four characters discover the magic of the music.
A man sits, he is waiting, in an airport waiting room decor… and falls asleep. Suddenly his shadow comes alive, it moves, grows, widens, settles behind a battery to play. He moves a part of the wall as if he wanted to join this mysterious form and disappears to reappear in shadows play. A game settles between the drummer and the rst character, theasleep and suddenly a double bass coming from somebody knows where. Then a woman brings him a suitcase containing a strange instrument.
The sequences are linked together, always linked by a kind of «absurd», something weird and hypnotic, that is only found in dreams. The play will nish on a gig of a trio, double bass, drums, clarinet, a playful and rhythmic music, bewitching.
This dream will be an initiatory and musical journey for man, a path that will lead him to a freedom carried by the force of the imagination.
Will he come out of his dream?
With
Christophe Rocher (Clarinets)
Frédéric B.Briet (Double bass)
Nicolas Pointard (Drums)
Chloé Gazave (Stage manager)
Nicolas Pointard, Christophe Rocher et Fréderic B.Briet have a great experience of jazz and improvised music, but this did not stop them from practicing their music in very di erent contexts (young audiences, street performance or performances) which gives their music a kind of universality despite an experimental approach, making their proposal accessible to all, even to the younger ones.
Here Chloé Gazave is at the stage, the trumpet and the play, accompanies the trio of musicians and creates the magic of the spectacle by its manipulations of lights and other scenographic tricks. Specialist in complex systems, she worked a lot with Sebastien Barrier and Johann Le Guillerm.
Created in collaboration with : Martial Anton
Scenery : Michel Fagon
Duration : 45 mn 
From 7 years to 100
Update Required
To play the media you will need to either update your browser to a recent version or update your
Flash plugin
.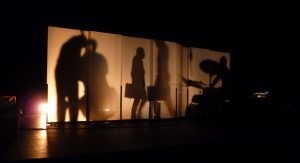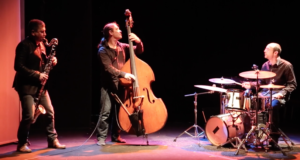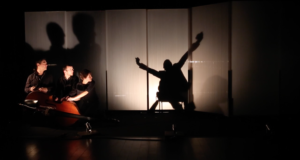 A co-production Ensemble Nautilis, Arthémuse (Briec) , Le Vallon (Landivisiau) , Tro-Heol and Penn Ar Jazz (Brest)
With the support of Drac Bretagne, de la Région Bretagne, Conseil Départemental du Finistère, Ville de Brest, de Sacem and Spedidam
---